Why Buying a Unit from SMDC at Green Residences is an Awesome Idea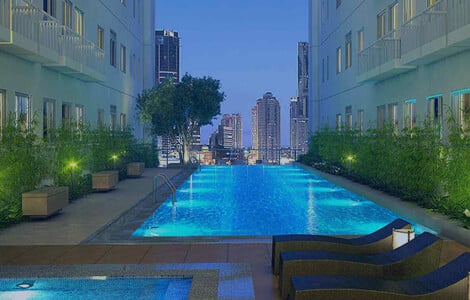 Buying a Unit from SMDC at Green Residences is Perfect.

Have you ever felt like you needed to zone out from the busyness of the city life and experience an ultimate living condition in a condo unit for your utter convenience? Well, Green Residences is just the perfect fit for you! Especially for students on the go, Green Residences provides state-of-the-art homes with the combination of luxury and comfort. This spiraling 50-story Residential Condo is effortlessly located at Taft Avenue, Malate Manila just right beside the Br. Andrew Gonzales Hall of De La Salle University. Built with the confidence that you are secured all the time, Green Residences is unmistakably the impeccable choice. Not only that, we prepared a helpful list on why you're only getting the best with Green Residences.

1.) Complete Accessibility
Being positioned right in the heart of an academic hub; food, transportation, malls, hospitals and every necessity you can think of are just basically a few steps away from Green Residences. For a pool of other universities surrounding the building namely College of St. Benilde, St. Scholastica's College, and St. Paul University among others, you are assured that your college life will be very stress-free. The easy access to public transportation is such a great catch as well. Taxis, jeepneys, FX rides and the nearby LRT Vito Cruz station are just always on sight when you need them. Moreover, there are varied establishments surrounding Green Residences for entertainment like EGI Taft Tower, University Mall and One Archer's Place. How nice, right? Now when you're craving for some good food, the nearby food places won't disappoint you as well. Be it with restaurants, food chains, cafés, or convenience stores, you won't get tired of trying out new dishes or exploring new study places. Malls like SM Mall of Asia and SM Manila are also just a ride away. More importantly, your safety is the number one priority here. With Green Residences, hospitals are just a few minutes away for emergency instances. Ospital ng Maynila, San Juan De Dios Hospital, and Medical Center Manila are ready to attend to your needs anytime.

2.) Contemporary Design and Structure of Wide Amenities
What better way to make the most out of your investment than opt for the one with the most modern, aesthetically-pleasing and wide variety of amenities to choose from? Green Residences stands out with its aim to completely satisfy homeowners. Did you know that it has a study hall and a study lounge like it was made out of a student's wish list? Its sleek design showcasing modern furniture and high tech equipment are all available and waiting for you. Can you imagine the life you can have with Green Residences? Let me visualize it for you. As you enter the building, you are at ease with their 12 high-speed elevators to bring you to your unit. Upon entering, you will appreciate the room given that it's spacious giving you the benefit of hosting group projects or even inviting some friends. It's good news that the balance between studies and enjoyment is also their forte. We can all probably agree that there are really times when one needs to cool down and take a break. The swimming pool, game room and the gym and fitness center are fortunately all ready to the rescue. Green Residences offers these perks for the homeowners to live a balanced and healthy life all throughout their stay.
3.) Agreeable Price with High Quality
The number one thing buyers consider in real estate is the price and quality which comes with it. Green Residences is one of the most in-demand establishments in the market today given its high standards. People can get to enjoy their everyday life without worrying about the burden in their pockets. Whether you have a growing family, starting to be independent or investing with great locations, Green Residences is the best choice in delivering. Compared to other well-known residential establishments in the area, it evidently compromises with a more affordable price. It is definitely a catch for people who are just starting out and only wants the finest deals. 4.) Different Payment Methods for Every Need Who would've thought that you can easily afford a place in Green Residences with ten various options? There are payment schemes you can choose from whatever your needs are according to how long and how much you want to pay for it. You can freely adjust to your budget and still get to allow yourself to properly allocate your expenses. It won't be a big hindrance to your other needs as it actually improves your life standards with a lot of perks from the one of the most reliable residential developments. Always providing you luxury and quality.
4.) Varied Room Type Options
Are you living independently? Or looking for a bigger space? Look not anymore because Green Residences has it all for you. The perfect unit you're looking for is now within your reach given the different room types and sizes available. If you're looking for a compact yet stylish unit, their Studio Suite with a floor area of 15.65sqm could be your gem. For a bigger option, there are Combined Studio Units with 31.3sqm or a Standard 1-BR which has 23.47sqm depending on your preference. If you need some fresh air and want to adore the skyscrapers at night, they also have the Standard 1-BR with balcony for you showcasing 35.28sqm. For a more luxurious vibe, they also offer the 1-BR Deluxe with balcony which has 35.28sqm and Combined BR units with 47sqm. Given these amazing choices, you will be confident at all times at The Green Residences. Now that you're equipped with this awesome information about The Green Residences, just envision how much you're missing out if you don't experience all those perks along with its superior living condition. The edge of The Green is that it doesn't only bring you comfort but also satisfies your personal preferences. As the modern times continually changes, it also calls out for a new beginning and a better life. Why don't you start those amazing changes with your home first? The Green Residences is just waiting for you.